Dirty Diapers, Lack of Sleep and No Free Time
The title of this post pretty much sums up my life now. However, I love every minute of it because...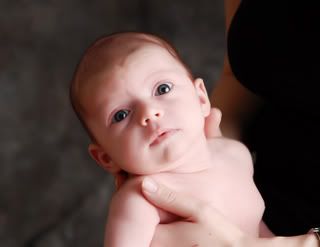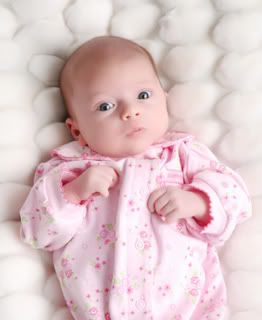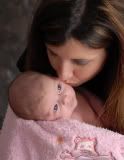 Isn't she just the most beautiful thing ever?? I can't believe how much I love her. I just sit and stare at her. I MADE this perfect little being! It's really hard to believe. All the crap I went through, the months of nausea, the hemorrhoids, the groin pain...so, so worth it. Now I know why people have more than one kid.
I think we're adjusting well. It really helps that Kirk takes on half of the work. I can't imagine what it's like for single mothers or those whose husbands don't help out at all. Here's our schedule:
7:00 am: I give Delaney to Kirk and get in the shower and get ready for work.
7:30 am: I feed Delaney.
8:30 am: Get to work.
8:30 am-10:00 am: Work.
10:00 am: Kirk calls to tell me that Delaney has not slept one second since I left.
10:30 am: Shut myself in boss's office to pump.
10:45 am: Listen to co-worker make off-color joke about my lactation.
10:45 am-12:30 pm: Work.
12:30 pm: Go home and relieve Kirk so he can get ready for work.
1:15 pm: Kirk leaves.
1:15 pm-10:30 pm: A cycle of diaper changing, feeding, rocking, sleeping (Delaney, not me).
10:30 pm: Kirk gets home from work.
10:30-11:00 pm: Kirk gets settled in, I get ready for bed.
11:00 pm-1:00 am: I get to sleep in bed with no distractions while Kirk watches Delaney in the living room.
1:00 am: Kirk puts Delaney down in crib in bedroom and goes to sleep. Sometimes she sleeps, sometimes she doesn't and he gets back up with her.
2:30 am: My 'shift' starts. If Delaney gets up after this point, I get up with her and take her into living room to feed her. We fall asleep on couch together.
5:00 am: Delaney wakes up, I feed her, we fall asleep on couch again. (This is also when re-runs of Coach come on. I forgot how much I liked that show.)
6:00 am: repeat.
7:00 am: It all starts again.
So I'm getting anywhere from 5-7 hours of sleep, which isn't too bad for a new parent. At least I don't look like a walking zombie. But I am looking forward to the nights when she sleeps 5 plus hours in a row.
I can't believe I've been a mommy for over a month now. I love my little girl so much it makes my heart hurt.
7